Everybody knows that selling oil in any currency other than the USD is very dangerous, let it be EUR (Saddam Hussein) or gold (Muhammar Al-Gadhafi).
Let's look at this Middle East map: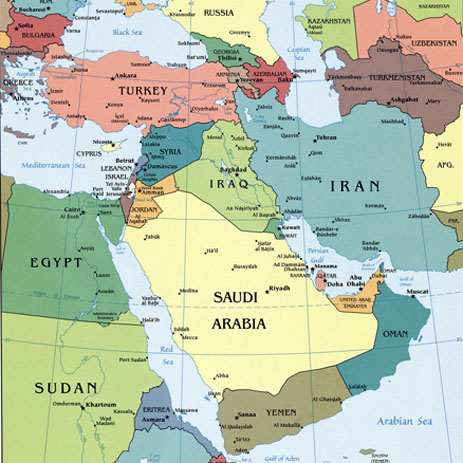 From Zerohedge, the Iranian currency,
the rial, has crumbled a 70%
since the EU and the USA imposed sanctions on the country.
When President Obama signed the Comprehensive Iran Sanctions, Accountability, and Divestment Act, in July 2010, the official Iranian rial-U.S. dollar exchange rate was very close to the black-market rate. But, as the accompanying chart shows, the official and black-market rates have increasingly diverged since July 2010. This decline began to accelerate last month, when Iranians witnessed a dramatic 9.65% drop in the value of the rial, over the course of a single weekend (8-10 September 2012). The free-fall has continued since then. On 2 October 2012, the black-market exchange rate reached 35,000 IRR/USD – a rate which reflects a 65% decline in the rial, relative to the U.S. dollar.
In my opinion, the end game is in sight. Energy resources will be controlled by a small elite, and most of us will perish or will be become defacto slaves. A very nasty future lies ahead.